Sport Activities
Crete Golf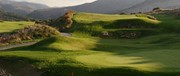 The golf club of Crete in Hersonissos (www.crete-golf.com) offers a championship 18 hole golf course located in an ideal venue of the highest service standards, in harmony with the Cretan landscape and mild climate. Vederi Estate being about one hour drive from the course offers the opportunity for golf to passionate players.
Water Sports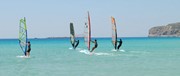 Whether you choose water skiing, parasailing, banana, ringos or a pedalo, water sports are a great way to spend your time and increase your adrenaline and fitness.
Scuba Diving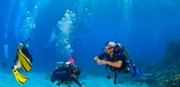 The underwater world in Crete is amazingly beautiful filled with shoals of rare fish and mini reefs holding assorted colourful fish and the likes of Moray eels. Another particular draw for divers all over the world is the fact that there are many planes and ships sunk or lost during the battle of Crete to explore with scuba diving. In order to view the best that Crete has to offer underwater its recommended you are fully qualified, but even if you are not the diving centres on the island are happy to train you up and take you on your first ever dive into the Cretan Sea.
Jeep Safari
If your looking for a guided tour around Crete then you have to try the Jeep Safari excursions on offer around the island. The excursions are professionally managed and the companies have outstanding safety records and good quality reliable vehicles. The staff that take you on the excursions are well trained, informative and speak a variety of languages.
Mountain Biking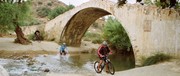 There are several Mountain Biking tours, offers cycling with our mountain bikes on dirt roads, old trails and isolated asphalt roads in Crete, to visit traditional villages and mountainous and coastal areas. With the gentle whir of our pedaling, we enjoy the spectacular views and smells of Crete, the island of contrasts!
Trekking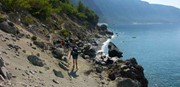 Many companies organize guided and self-guided, hiking and trekking tours (from daily to 15-day programs). Hiking tours in Crete include all land services and facilities (meals, transports, etc), covering the most interesting and beautiful routes and areas of the island. There are programs planned to cover everybody's interest for nature, history and landscape of Crete.
Climbing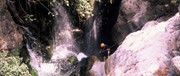 The combination of holidays with safe rock climbing on mountain crags, beach cliffs and beautiful traverses right above the waters of the Mediterranean Sea is just extraordinary in Crete! There are routes that are bolt - protected as well as routes that require natural protection (on nuts etc), for all abilities.
Horse Riding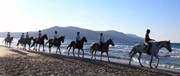 Experience Crete differently with beach rides in beautiful countryside. For your best-ever holiday enjoyment, you can have exciting beach rides, beautiful mini-safaris, relaxing day trips, easy beginner's walks for non-experienced riders as well as private lessons.