Beaches
North Coast
Beach of Rethymno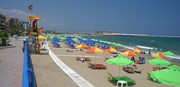 The beach of Rethymno, covered with fine brown sand, is 12 km long extending from the city to the end of Scaleta. The part located in town is crowded in summer, but walking out it becomes less busy. This beach is well organized with a large number of lifeguards working from 10 am till 5pm to provide safety. Water sports are available along the beach.
Beach of Episkopi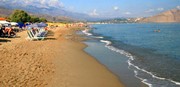 The beaches of Episkopi and Petre are quite large and are mainly sandy. They can be reached from the national road (E75) to Chania in approximately 15 minutes.  Lifeguards patrol for the safety of visitors and they have beach umbrellas and sunbeds for hire. There are also beach bars or restaurants for food and drink.
South Coast
Beach of Triopetra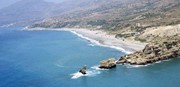 Known for its unique water and beautiful sunset. The route from Vederi Estate to the beach of Triopetra is about 40 minutes. In there you will find a restaurant and a beach with umbrellas and sunbeds. Close to Triopetra there are many other beautiful beaches like Plakias, Agia Galini, Ammoudi, Agios Pavlos and more.
Beach of Preveli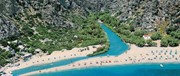 Preveli is one of the most famous beaches in Crete. Isolated, beautiful and romantic offers a unique experience to the visitor. Located on the central south coast of the island it's just a few kms from the monastery of the same name and about 43 kms from Rethymno town.
Beach of Ammoudi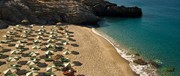 Ammoudi and Mikro Ammoudi are two sandy beaches within walking distance from Damnoni. Mikro Ammoudi is a naturists' beach so small that it is almost always packed with people. Ammoudi is further down the main road, very close to Mikro Ammoudi. The name "Ammoudi" comes from "ammos", which in greek means sand. Mikro is the greek word for little.